PARADE AROUND IN STYLE
PARADE Jammies are a hit! Made of super soft Pure & Dreamy organic cotton, our collection features brand new exclusively designed prints for the sweetest dreams for the whole family.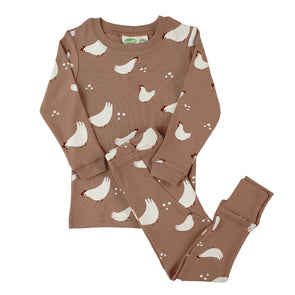 PARADE & Organic Cotton

Like fluffy clouds in a bright blue summer sky, Parade's clothing is luxuriously soft and comforting. With bold colours, eco inspired designs and our cast of curious characters, we celebrate beginnings, new adventures and the colourful world around us.
Since we designed our first pieces in 2004, we were one of the first clothing companies in North America to use only certified organic cotton and sustainable materials. We believe in responsible production, and oversee every detail of every collection.  We only use the finest organic cotton from India, where cotton farming has a long history, and the quality is soft and luxurious.
Produced organically, cotton is not only soft and pure on delicate skin, but also stronger and more durable than processed cotton, all without the use of harmful chemicals and pesticides.  The GOTS, or 'Global Organic Textile Standard' label you'll find in our clothing guarantees that each piece was grown, dyed and sewn organically and under fair trade standards.
From our beginnings in a little studio downtown, we created this boutique, family owned brand that we now sell to the best boutiques across North America.
Newsletter Sign Up

Join the PARADE!
Get early access to new launches and exclusive offers